Video Tutorial: How to make marshmallow creme (no corn syrup method)
Hi! This is the second part of my Thursday baking tutorials :) I decided, since there was so much interest in the post I did recently about making my own marshmallow fluff, that I would share with you all. I did make one change to the recipe that I posted here however. This recipe is made with honey, rather than with corn syrup.
Why you might ask? Well two reasons really. I was curious AND I really don't like using corn syrup or more importantly it's evil cousin high fructose corn syrup. I was really pleasantly surprised with the results. There is a depth of flavor that is non existent with the regular creme, the honey melds so well with the vanilla. I've made nothing BUT this recipe since I tried it out and I have to say it tastes sooooo much better in a fluffernutter sandwich. It just can not be beat!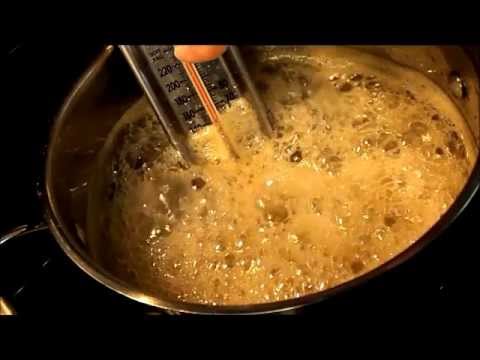 Here is the recipe, just in case it goes too fast for you on the video. Try it! I promise you will be pleasantly surprised!
Marshmallow Creme (No corn syrup method)
2013-04-18 14:33:19
Marshmallow creme made with honey instead of corn syrup - best fluffernutter sandwiches EVER!
Ingredients
1 cup honey (I used Suebee)
1/2 water
2 pinches of salt
1 1/2 cups of sugar
4 large egg whites
1/2 tsp cream of tartar
1 TBL double strength vanilla extract
Instructions
Put the egg whites and cream of tartar in the electric mixer and mix on medium until the egg whites reach a soft peak stage.
In a metal saucepan, put in the honey, sugar, salt and water.
Using a candy thermometer, bring the sugar mix up to 240F.
Turn the electric mixer onto low and slowly, using the side of the mixer bowl, pour the sugar mix into the eggs.
Once the saucepan is empty, slowly crank the speed up to high until it reaches stiff peaks.
Add the vanilla and beat again for 2 to 3 minutes.
DONE! :D
Notes
Use a ziplock bag to put the fluff into the container for storage.
This creme tastes awesome when you use it in: whoopie pies, fudge, rice crispie treats, no bake cookies, inside cupcakes, fluffernutter sandwiches and of course... if you eat it by itself!
Making, Baking and Creating http://apinterestaddictsdiary.com/